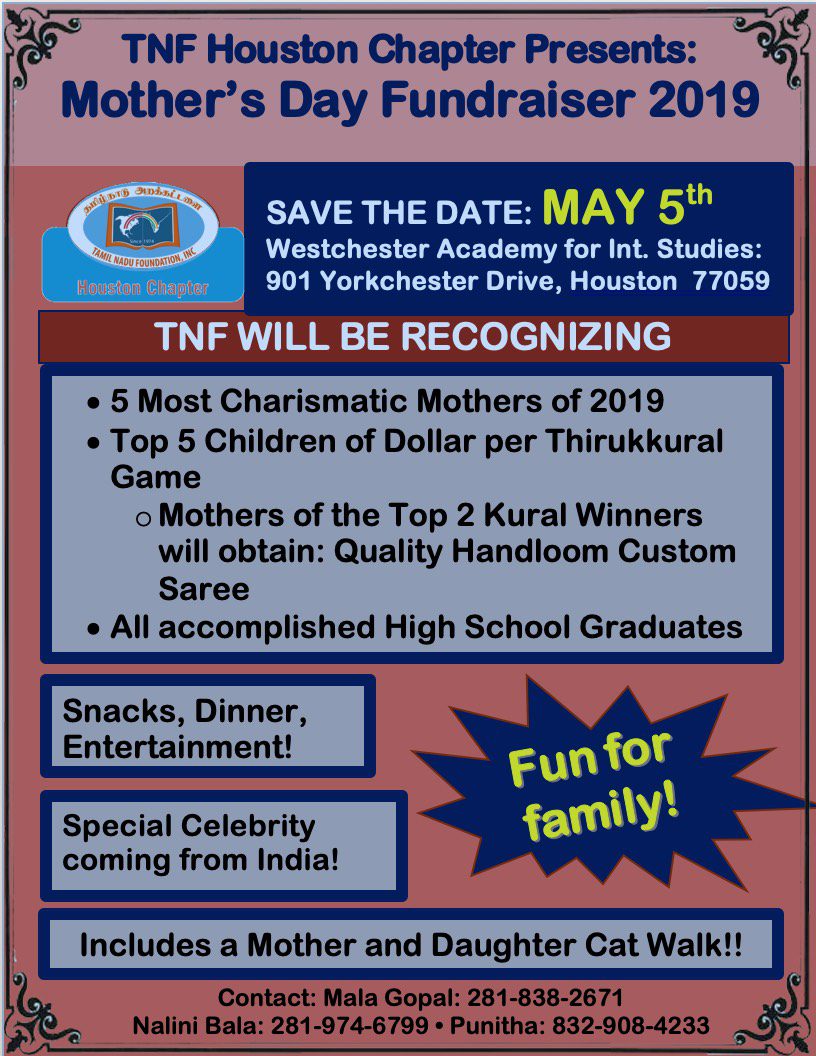 2019 – February 24 – Valentines Day Celebration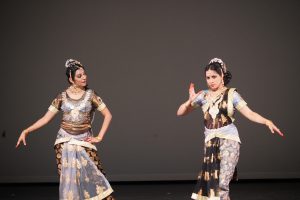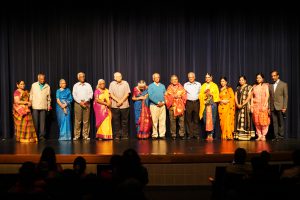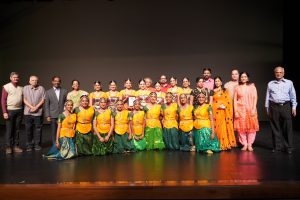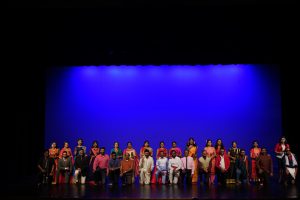 2018: November 17. TNF Children's Day
2018: June 17. Inaugural Fathers Day. CLICK HERE FOR PRESS COVERAGE
2016: May 8. Mother's Day Musical Extravaganza. All proceeds to enrich school education in rural Thiruvarur district through TNF-ABC initiative. Click here for program details.
2015: December 6. MTS along with BKM & TNF is organizing a Sarva jana prArthana Puja & Chennai Flood Relief fundraiser to provide aid for those afflicted by this calamity. More details
2015: May 10. TNF is hosting Ragamalika: Ilayaraja salutes thyagaraja and THAAI….AVAL ORU THODARKATHAI" Penmayin Parimaanangal by local Talent. CLICK HERE FOR MOTHERS DAY 2015 Flyer
2015: January 23. Comedy Pattimandram By Dindigul I.Leoni at Sri
Meenashi temple Kalyana Mandapam co sponsored by Bharathi Kalai Mandram.
Link for additional press coverage:
http://www.indoamerican-news.com/?p=30977
2014: May 11. TNF Houston Chapter Kickoff meeting with the Mother's day
celebration was held at the Madras Pavilion
2013: November 17. TNF Projects update meeting, Madras Pavilion.
2012: May 25- 28. TNF National Convention
First such Tamil convention in Houston. The convention generated net
proceeds of more than $50,000. Part of these proceeds was used to complete
an unfinished government school building in Jaganathapuram, Thiruvallur
district and to fund the coaching center for +2 students in Kattupakkam
village
2010: June 5. Lakshman Sruthi light music program. Funds used to initiate
the TNF-ABC project which focuses on educating the underprivileged in
government schools in Tamil Nadu. Organized by Bharathi Kalai Mandram.
[/vc_column_text][/vc_column][/vc_row]